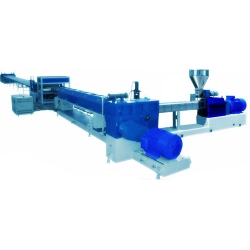 Despite the rapid growth of China's domestic market remains, but
plastic machinery
manufacturing enterprises are taken overseas expansion. Moreover, their interest in no way limited to a single export. In Brazil, and India and Russia emerging countries such as China
plastic machine
business plans at the local plant, take market share and get started global expansion, seize these market opportunities.
Customers are very sensitive to price in the developing markets, and Chinese machinery maker product prices are often lower than competitors in other countries. Such as India in such a market has taken measures to resist the inflow of domestic machines, starting from the 2009 high anti-dumping duties on Chinese-imported plastic machines.
To this end, in the past two years, China plastic machinery enterprises around the world to form joint ventures, acquisitions and new plant is growing. For example, the Haitian group earlier this year in Viet Nam built a new plant. Cosmos machinery limited of Hong Kong in the last year and India plastic manufacturer Jishu-Hozen Machines Pvt.Ltd. companies formed a joint venture.
Cosmos machinery Ltd Marketing Manager Jason Chan said: "India is a market size, and the development of an enormous speed. We in this business is just getting started, but there is enormous opportunity waiting to be excavated. "Chan in 2011 to be held in Shanghai on September 6, Asia-Pacific international plastics and rubber industry exhibition (APPLAS) did an interview on.
Although domestic sales for Cosmos machinery still holds more than 15% per year of rapid growth, remains its largest sales market, but exports in its business strategy of increasing importance. Chan said: "South America, Southeast Asia, India, which is a big and important market, we have a good development. And competition in these markets is not as intense as the Chinese market. "
Also attend the APPLAS fair Guangdong yizumi precision machinery limited company's Chief Marketing Officer Zhao Jian also revealed willingness to expand. Earlier this year, yizumi bought United States HPM's intellectual property. Zhao said that yizumi only 15% of its sales from export markets, which supply most Southeast Asian countries. Buy HPM intellectual property aims to further expand into the international market. Zhao said: "this highly valuable for us. We can call the HPM's name, bring it to the international market. "